Every web designer sets out to do good design but not every web design turns out good. The key to good software design is in understanding
the context
in which the software will be used. The goyaPhone is not designed for the casual passer-by who might look at it and think
"oh, nice colors."
Nor is it designed for the first-time user who might feel overwhelmed. No, the goyaPhone is designed for the repetitive user, for people like you who need to make hundreds of calls a day, who send follow-up emails by the dozens, who need to remember call back appointments weeks or months in advance, all while keeping both
motivation and a clear mind
so that you can keep calm and carry on.
Time to reconsider
the sales software
Because the purpose of the goyaPhone is to help you prospect over the phone, the context requires a user interface that's designed for repetitive use, over long periods of time.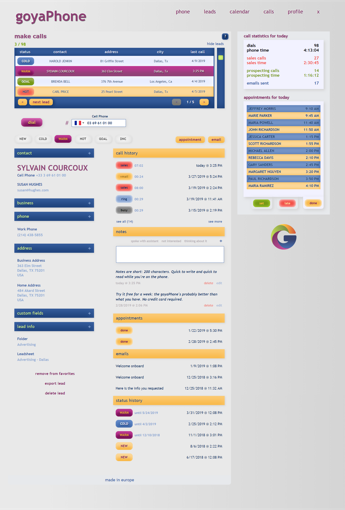 The user experience is tested by repeating every action 10, 20, 30 times in a row. That way, you can spot rough edges, you can
reduce eye movements
by repositioning the layout of visual elements, and you rework the design until each task is fluid. Then, you repeat and refine the functionality again and apply the same rigor to test how each piece of the software interacts with other parts. The goal is to minimize clicks, mouse and eye movement, so that you're as efficient as possible.
Software should feel like a
natural
extension of you instead of a carpet you're constantly tripping over because ultimately, the interface affects your behavior, and your sales.
For instance, take a very common task:
selecting a time.
Notice how the timepicker works in the goyaPhone. You can adjust the timepicker to your preferred time format, either the 12-hour format with AM/PM, or the 24-hour format.
As you can see, with the goyaPhone's timepicker, you can select a time in as little as 2 clicks.
Compare
with software that use traditional timepickers designed with drop-downs or clickers, like this:
Timepickers designed with clickers require a lot of clicking, or keyboard typing, which involves even more hand movement. With drop-downs, selecting a time requires a click to open the drop-down of the hours, a mouse movement to reach the correct option, a click to select the value and then the same operation again to select the minutes.
All this while you're on the phone?
What kind of timepicker does your software use? As you'll start to use the goyaPhone, you'll come to appreciate the
quality
of the software and the details of its design. Take a moment to experience the user interface. Imagine if instead of cold-calling with your current system, you had the goyaPhone.
Would it be better?
How much time do you and your company spend on prospecting? By getting software that's specifically designed for prospecting you will get more prospects. Woody Allen says that
"80% of success is showing up".
The goyaPhone is designed with just that in mind: get you on the phone more often, with more prospects, on time, and in a good disposition.